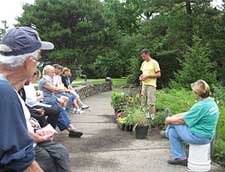 The Holliday Park Volunteer Program provides opportunities to become involved in Holliday Park through hands‐on participation in park programs, activities and projects.
For more information, or to volunteer, call (317) 327‐7180.
Volunteer Opportunities Available
Gardens and Grounds Keeper
Individuals and groups in the community help maintain the many gardens gracing the park by planting, weeding, or mulching, as well as, assisting with invasive species control in the forest. Join the Garden and Grow sessions which run on Friday mornings from April through October to help maintain many of Holliday Park's gardens.
Garden and Grow Workshops
Join a team of volunteers who help maintain and improve the gardens of Holliday Park alongside horticulturalists Chris Turner and Kelly Frank. A relevant garden topic is presented on the first session of every month. Volunteer work in the garden is required to participate in the presentations.  Click Here for the 2022 Garden and Grow Schedule.
Assist the naturalist staff in teaching the many children who visit the park with their school class. Additional training is provided and required. For more information, please read the Volunteer Naturalist Flyer.
Work with the Indiana Phenology group to help observe and monitor a set of specifc trees in Holliday Park. More information can be found HERE!
Take part in executing the many special events held annually at Holliday Park, such as, Sap to Syrup, Hauntless Halloween or Spring Clean Up. 
Walk the trails retrieving trash, helping visitors and reporting unsafe conditions to park staff. 
Improve customer service in the nature center by sitting at the reception desk and greeting visitors, fielding questions, answering the phone and assisting staff with office-related projects. Training is provided.
Help care for the Nature Center animals including tank cleaning, feeding, animal socialization.
Volunteer Sign Up
Fields marked with a * are required.