Volunteer Opportunities
The Holliday Park Volunteer Program provides opportunities to become involved in Holliday Park through hands-on participation in park programs, activities and projects.
Gardens and Grounds Keeper — individuals and groups who plant and maintain flower beds and other areas of the park throughout the growing season.
Naturalist Assistant — works with naturalist staff in teaching the many school groups and classes that come to the park each year. Additional training sessions are provided and required. For more information, read our Volunteer Naturalist handout (PDF, 140 KB).
Special Events Helper — assists in planning and conducting events held year-around in Holliday Park.
Trail Monitor — walks the trails year around, helping visitors, reporting unsafe conditions to park staff and serving as a visible reminder of park regulations.
Office Assistant — helps in the Holliday Park Nature Center office year around by answering phones, helping visitors with questions and assisting staff with special projects.
For more information, call (317) 327-7180.
Make the choice now
We value our volunteers! Watch our video salute to their hard work.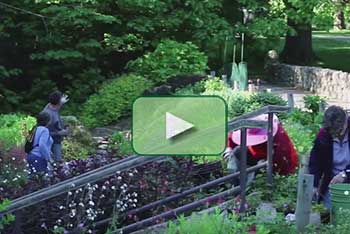 To volunteer, call the Holliday Park office at (317) 327-7180.