About the Friends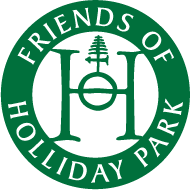 The Friends of Holliday Park is a private, non-profit, membership organization committed to preserving and maintaining Holliday Park as "a place for recreation and the study of nature." Over the past 18 years, the Friends have been intimately involved with Indy Parks working to improve and renovate Holliday Park. They built and recently upgraded a state-of-the-art playground, restored the historic rock garden and provided the impetus for repairs to the trails, road and parking lots. The Friends also raised the $4.8 million needed to construct and endow the Nature Center, which opened to the public in April 2000.
The Friends have nearly completed a $3.2 million capital campaign in order to fund exciting renovation projects for The Ruins and for the Exhibit Hall in the Nature Center. Donations are encouraged!
Join the Friends. Memberships are donations and are tax deductible.
Donate to the Friends. Support our many Holliday Park projects.
The Friends maintain an office in the Nature Center at Holliday Park:
Friends of Holliday Park
6363 Spring Mill Road
Indianapolis, Indiana 46260
(317) 475-9482
For more information, please contact Development Director Sarah Potasnik at (317) 475-9482 or spotasnik@hollidaypark.org.