THE RUINS
Centrally located in Holliday Park, the Ruins are the most identifiable element of the park. International sculptor Karl Bitter designed the Races of Mankind sculptures in the 1890s. The assemblage of fountains, columns and statues, designed by artist Elmer Taflinger, is one of Indianapolis' most distinctive art installations.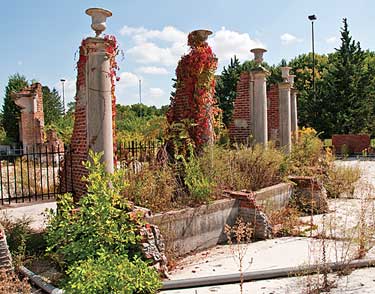 Today the Ruins stand in a true state of ruin. Fenced in and overgrown with weeds, they set a tone of neglect that adversely affects the overall character of the park.
In the new design by local landscape architects Eric Fulford and Ann Reed, visitors will be welcomed to the park through an allée of trees to the Ruins, where they will be oriented to the many facets of the park — the playgrounds, the river, the trails and the Nature Center.
The revitalization of the Ruins will open the core section of Holliday Park to the public, integrating them into the park's everyday lifeblood and mission. By renewing the structures, we wish to re-establish them as an open, safe and inviting place for the public — a centerpiece of the park.
You can enjoy a slide show of the renovation plans.